I have been using the Scanphone for almost a year, on several types of projects related to electrified vehicles. The Scanphone allowed us to see, literally, the EM filed, and helped us through our EMC investigation, such us on radiated emissions of OBC, connectors or cables shielding. I also used it to investigate on immunity issues due to BCI test, the Scanphone helped me to localize with good accuracy the radiating parts that are causing the defaults during the test.
(Figure of BCI test on traction battery showing the disturbance path and resonant parts).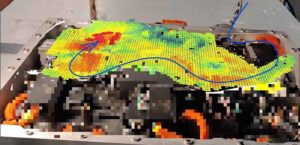 The Scanphone makes also very easy to share investigation results with engineers from other domain (mechanical or cabling engineers for example), which helps to better explain the EMC issues to them and discuss more easily about countermeasures.
As part of a student's project work, a new laboratory experiment was set up for the electromagnetic compatibility module at Technische Hochschule Mittelhessen. The module as well as the lab experiments are under the direction of Prof. Dr. Chris Volkmar.
The objective of this experiment is the understanding and measurement of a coil and its electrical behaviour. Students investigate the magnetic field of the coil using our new equipment, the EM-Scanphone from Luxondes.
Thanks to jean-luc Darroman and Laurent BONNAIRE for your support in using the Scanphone for the first times.

Andy Eadie est un ingénieur matériel expérimenté spécialisé dans la compatibilité électromagnétique CEM.
Il possédait et gérait auparavant une installation de test CEM / RF répertoriée par la FCC et, depuis 2014, se concentre sur la création de programmes et de formation en ligne de classe mondiale sur les sujets CEM et EMI.
Pour compléter sa gamme d'outils d'investigation de rayonnement eléctromagnétique il a fait l'acquistion d'un scanphone.
En 2015, Orange Labs commande à Luxondes une dalle pour visualiser en temps réel les ondes électromagnétiques qui l'illuminent. Cela permet de montrer au grand public l'intérêt et le potentiel de réduire la consommation d'énergie des futurs réseaux 5G par focalisation des ondes électromagnétiques vers les utilisateurs.
Un outil précieux pour les laboratoires et les industriels, aussi bien pour son utilité scientifique que pour ses qualités pédagogiques.
À l'Institut Langevin, nous travaillons dans le domaine des communications à très haut débit dans des environnements complexes et réverbérants avec des applications de retournement temporel. L'achat d'une dalle Radio Waves Display Luxondes nous permet d'améliorer nos algorithmes et de visualiser en temps réel le foyer des ondes.