I have been using the Scanphone for almost a year, on several types of projects related to electrified vehicles. The Scanphone allowed us to see, literally, the EM filed, and helped us through our EMC investigation, such us on radiated emissions of OBC, connectors or cables shielding. I also used it to investigate on immunity issues due to BCI test, the Scanphone helped me to localize with good accuracy the radiating parts that are causing the defaults during the test.
(Figure of BCI test on traction battery showing the disturbance path and resonant parts).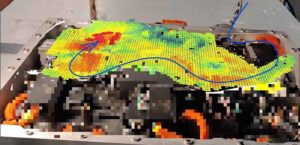 The Scanphone makes also very easy to share investigation results with engineers from other domain (mechanical or cabling engineers for example), which helps to better explain the EMC issues to them and discuss more easily about countermeasures.
As part of a student's project work, a new laboratory experiment was set up for the electromagnetic compatibility module at Technische Hochschule Mittelhessen. The module as well as the lab experiments are under the direction of Prof. Dr. Chris Volkmar.
The objective of this experiment is the understanding and measurement of a coil and its electrical behaviour. Students investigate the magnetic field of the coil using our new equipment, the EM-Scanphone from Luxondes.
Thanks to jean-luc Darroman and Laurent BONNAIRE for your support in using the Scanphone for the first times.

Andy Eadie is an experienced hardware engineer with a specialization in electromagnetic compatibility.
He previously owned and managed an FCC listed EMC/RF test facility and since 2014 has focused on creating world class online training programs in the subjects of EMC and EMI.
To complete his range of tools for investigating electromagnetic radiation, he acquired a scanphone.
In 2015, Orange Lab will order Luxondes start-up a device unique in the world: a slab for viewing in real time the electromagnetic waves that pass through it. It will allow them to really show the general public the focus and its potential to reduce the energy consumption of future 5G networks.
"Rapidly identifying the spatial structure of electromagnetic fields"
At the langevin institute, we work in the fields of ultra-broadband communications in complex and reverberant environments, applications of time reversal. The purchase of the luxondes Radio Waves Display allows us to improve our algorithms and visualize in real time the focus of the waves.