2022 – 5/7 October
Automotive Technology Expo 2022
During the Automotive Technology Exhibition in Seoul, our Korean distributor Dymstec, demonstrated a scanphone coupled with a spectrum analyzer on the Rohde & Schwarz booth.
2022 – March
HF-PRAXIS – Article
Publication of an article on the EM-Scanphone in the German magazine hf-praxis.
2021 – 20 MAI
WEBINAR
Luxondes / R & S / Testoon
Are you affected by the CEM Prequalification?
R&S, TESTOON and LUXONDES are teaming up to create a Webinar presenting the new 3D weapon using Augmented Reality for your Prequalified-CEM:
the EM-Scanphone associated with the FPC1000 analyzer.
2021 – APRIL
ELECTRONIQUES – Gold Electron
As every year, the Electroniques magazine organizes the Golden Electrons ceremony which highlights the innovations of the year in different fields.
With the EM-Scanphone, the company luxondes was awarded in the "Instrumentation" category.
2020 – OCTOBRE
MESURES – Prize list
For the 25th edition of the Technological Awards, awarded by the magazine Measures, the Luxondes company received first prize in the Electrical / Electronic Instrumentation category, with the Scanphone
2020 – SEPTEMBRE
EMC-FEST 2020
Following the presentation of Scanphone in Korea at RAPA (Korea Radio Promotion Association) our partner and distributor DYMSTEC will demonstrate at EMC-FEST in SEOUL (Dragon City Convention Tower) on September 23 and 24.
http://dymstec.com/products/scanphone/
2020 – AVRIL
EMC-FastPass
Andy Eadie is an experienced hardware engineer specializing in EMC electromagnetic compatibility.
To complete his line of electromagnetic radiation investigation tools, he acquired a scanphone.
2020 – EMV – COLOGNE
Presentation of the ScanPhone
Luxondes will be present at the EMV2020 trade fair in Cologne and you will be able to experiment with the scanphone, a new direct electromagnetic mapping system in augmented reality.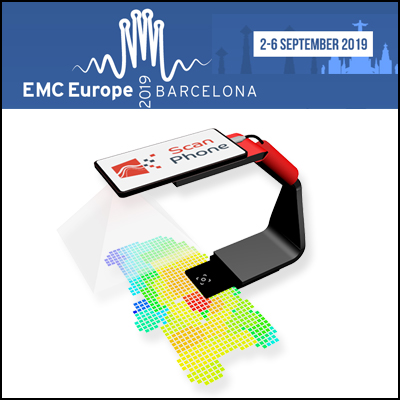 2019 – EMC Europe – Barcelone
Presentation of the ScanPhone
At the EMC-Europe congress, we present the new ScanPhone Automated Mapping System.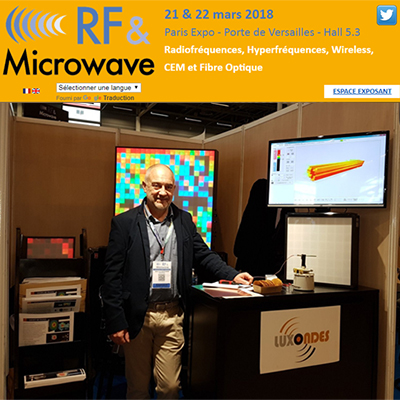 2018 – Salon RF & Microwave
Presentation of the RWD-64_PC
Fast and easy to adjust, the RWD saves time in antenna radiation pattern optimization, or quality control; for example in the analysis of connected object communication signals or in the study of wave focusing (time reversal, 5G communication).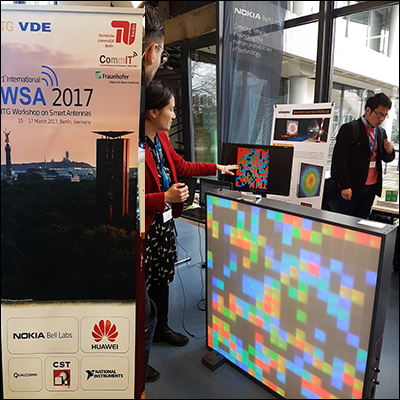 2017 – Workshop on Smart Antennas (Berlin)
Demonstration of the RWD-400
Demonstration on the Orange Lab exhibition stand of a time reversal application (5G) with the RWD -400.